Announcement Notification v0.5.3
By
David Clark
// Overall Rating

3 Votes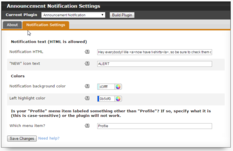 Visit the library from your admin panel to directly install plugins.
Version Updates
v0.5.3 - July 9, 2015
Fixed a bug where the bubble won't show if you have a restructured navigation menu.
v0.5.2 - April 5, 2015
Added the information stating to clear out the plugin key data whenever there is a new notification to be sent.
v0.5.1 - April 4, 2015
Help link, description, link to support thread when clicking [?]
v0.5.0 - April 4, 2015

Why are you reporting this item?
Malicious Code
Inappropriate Content
Stolen Content