Event Calendar v1.3.0
By
Wormopolis
// Overall Rating

27 Votes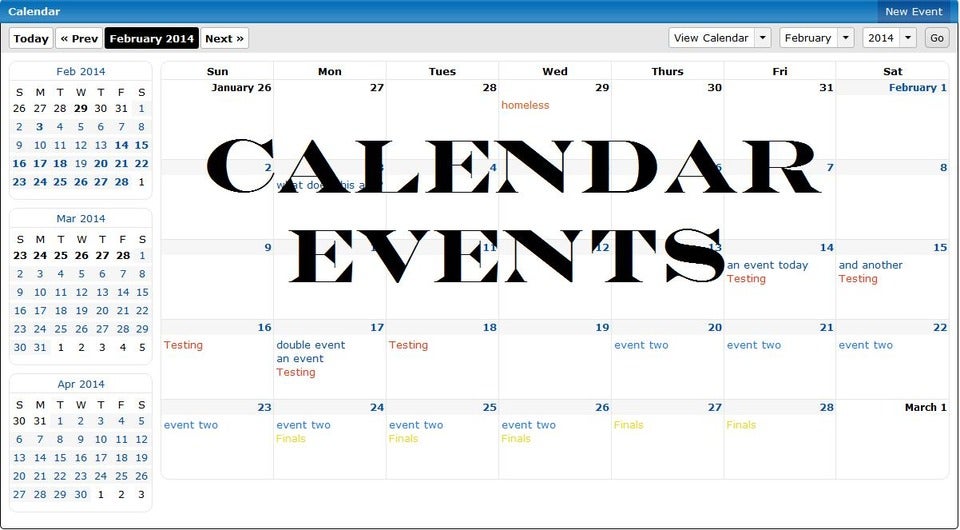 Visit the library from your admin panel to directly install plugins.
Version Updates
v1.3.0 - December 10, 2014
v1.3.0
added News fader/slider option to list events occurring in X days
modified Re-occurring events to now be variable occurance with a minimum of 7 days
v1.2.2 - September 21, 2014
v1.2.2
added key storage watch to help keep track of size of key
if key is 99% full, no new events can be added via key
its recommended you move some events to plugin settings to reduce key size if you can, especially if they are re-occuring events
v1.2.1 - September 6, 2014
v1.2.1
some time bug fixes
v1.2.0 - September 5, 2014
v1.2.0
added time option to events. uses 24 hour format: HH:MM
sorts events in each day by time
added post id option to events to link directly to a post. if you also include a thread id, will link to post in full thread
added option to make info center events link to thread/post if part of event
v1.1.0 - May 31, 2014
v1.1.0
added ability to add custom icon to events that show in day view
added ability to add thread links to events that show in day view
made events clickable in info center to go to day view for that day
fixed a bug caused when it didnt find an existing cal event row object by creating a fake one

v1.0.5 - March 21, 2014
v1.0.5
added option to display events ahead of time in info center
sorts by start date
v1.0.1 - March 8, 2014
v1.0.1
added option for staff only viewing on static events
v1.0.0 - February 23, 2014
v1.0.0
initial release
Why are you reporting this item?
Malicious Code
Inappropriate Content
Stolen Content