Whisper Tags v0.2.5
By
Todge
// Overall Rating

14 Votes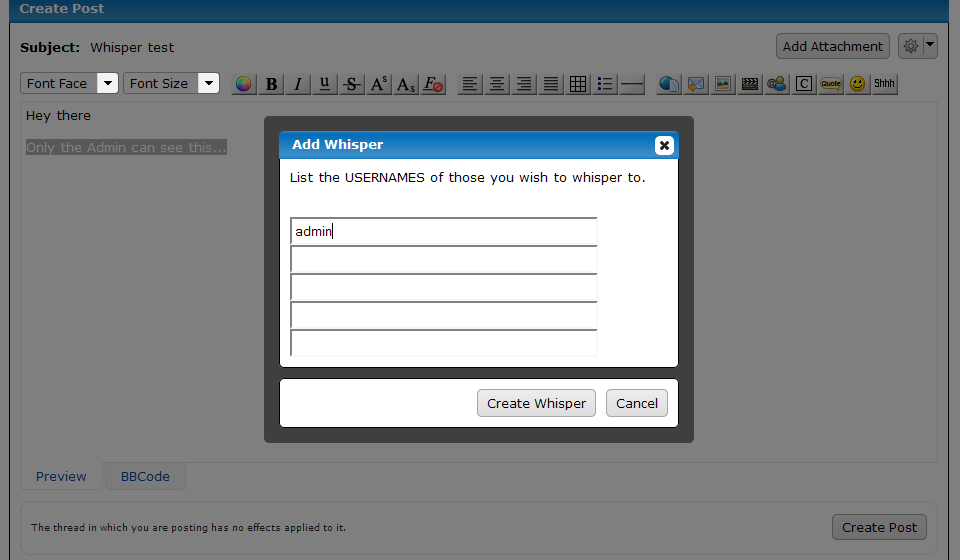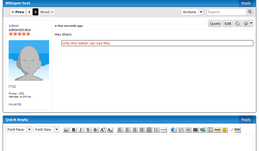 Visit the library from your admin panel to directly install plugins.
Version Updates
v0.2.5 - January 7, 2019
0.2.5
Added ability to whisper to all members while leaving guests in the dark.
Removed the 5 member restriction.. You can now whisper to as many members as you like.
You can also now whisper to guests if you so wish.
v0.2.4 - June 28, 2018
0.2.4
Added function trigger Style Tag plugin in whispers.
Added member tags, So members will now know when they've received a whisper
v0.2.21 - September 11, 2016

v0.2.2 - April 7, 2016
0.2.2
Added encryption to Quick Reply.
Added encryption for non alpha-numeric whispers.
v0.2.1 - April 6, 2016

v0.2.0 - November 30, 2015
0.2.0
Added encryption to stop whispers being read in Tapatalk etc.
v0.1.0 - April 21, 2014
0.1.0
Complete rewrite.. Now allows Whispers to be seen in visual, surrounds highlighted text and improved wysiwyg handling.
v0.0.5 - March 1, 2014

v0.0.4 - February 28, 2014
0.0.4
Updated IE8 work-around.

0.0.3
Changed whisper div to include style which will hide it by default.

0.0.2
Fixed pagechange error.
Why are you reporting this item?
Malicious Code
Inappropriate Content
Stolen Content