If you've decided a member is no longer welcome in your community you can choose to ban them from the forum.
To ban a member from the forum you can visit their profile on the forum and click on the

button on the top right of their profile. Select
Ban Member
from this list.
You'll have the following options when banning a member:
Ban member's username — Ban the member's individual account from the forum. The member will lose access to this username, but can create a new account if they desire.
Ban member by global ID — All accounts linked to the member's global account will no longer be able to access the forum.
Ban member's IP address — The member will no longer be able to see the forum from their internet connection (provided their IP address remains the same).
Note — A note to add alongside the member's listing on the ban list. This can be a ban reason or a recognizable username to associate with an account that has been banned.
Expires — Choose a date for the ban to expire if you'd like the ban to be temporary. Leave this field blank to make the ban permanent.
Once you've finalized the methods in which you'll ban the member you can apply the ban by clicking the
Ban
button.
You can also click the

button beside any post on the forum to ban the user who made that post.
Members can also be banned from the admin area by selecting
Members
from the menu, then selecting
Ban Members
from the following menu. All of the information can be filled in manually from there.
The
Ban Members
page also allows you to remove members from the ban list as well as change the ban expiration date or ban notes. Clicking on the
x
icon next to a ban listing will remove the member from the ban list.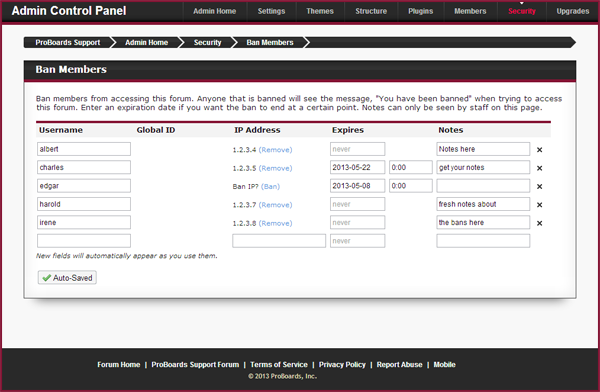 Note: If an expiration date is not set on a ban, the word
never
will automatically be displayed in place of a date. This means that the ban will
never
expire. All bans are permanent by default and therefore are set to never expire unless otherwise specified.